The "Team Share" feature is available to our Premium, Association, and Pro members.  Team Share is a convenient way to share select content with your team without exposing your entire drill/practice database or having to email individual drills/practices.  Each HockeyShare user gets their own unique Team Share URL that can be shared with whomever they choose. Content shared to your Team Share page is read-only and is intended for sharing with players or coaches. Team Share pages are password protected. 
Set Up Team Sharing
Locate your Team Share URL on the right-hand side of your My Drills page.
Select the drills you want to share on your Team Share page by selecting the check box next to the drill(s) and click the "Share" button under the Team Sharing Options heading.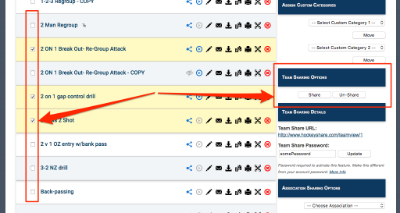 The same process can be performed from the My Practice Plans page to share practice plans to your Team Share page.